Yachts
Cuba is legendary with its unique history ,for lovers of the sea Cuba passes from the time of piracy in 1560 until the '20s with the big yachts arriving from Miami to the casinos and to excape alcohol prohibition, until more recent inspiration that Cuba was for a great lover of the sea as Ernest Hemingway.
That's why we have chosen to offer you to discover this pearl of the Caribbean sea at the entrance of the Gulf of Mexico between the Yucatan Peninsula to the west, Haiti to the east, Jamaica to South and Florida which is only 80 mile away. Beautiful beaches and historical scenarios, spectacular snorkeling among coral and fish, easy and relaxing sailing is what awaits you. Among the most beautiful things to see we note the Archipelago Canarreos, the Queen's Garden, and Trinidad.
Also recommended for small groups of people (6-10) that may require a more complete Tour Land-Sea.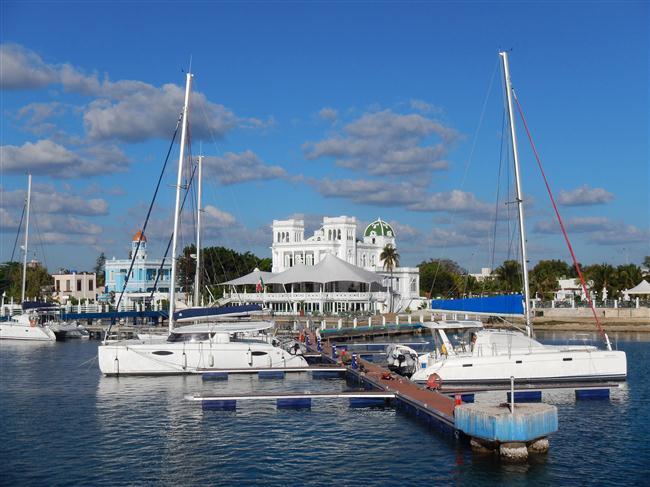 Routes
These Boats will only sail from the Nautical Center of Cienfuegos. In case ask for transfert and accommodation.
Cienfuegos, Cayo Guano del Este, Cayos de Dios, Cayo Largo, Cayo del Rosario, Isla de la Juventud, Trinidad, Cayo Blanco, Cayo de Ana Marias, Laberinto de las Doce Leguas, archipelago of Jardines de la Reina.

Athena 38 - La Perla: The Athena 38 was one of the catamarans that helped make become Fountaine Pajot, with 2,000 standard units produced in 26 years, among the largest manufacturers of catamarans in the world. Placed on the market in 1994, this multi-hull of 11.60 m...
See more

Lagoon 440 - Victoria. Lagoon 440 - Victoria. Ii Lagoon 440 is a magnificent catamaran created specifically for the charter by the famous French shipyard Lagoon. E 'was the first catamaran ever to make his debut with the wheelhouse above the dinette, thus offering p...
See more

Bahia 46 - Cohiba - Great catamaran very equipped and with high quality finishes. It has a luxurious interior with all kinds of comforts finished in teak and light woods. bright kitchen and open to the sea with large table, ideal for unforgettable moments compratir ...
See more

The Lagoon 421 - Miramar The Lagoon 421 summarizes the needs expressed by boaters who seek above all comfort and space, without sacrificing the pleasure of sailing. Equipment-Included lazyjacks mainsail roller furling genoa electric anchor windla...
See more